Please go onto www.justgiving.com/henrynormalfred and write your name(s) next to your payment. Venue: Jordans Village Hall, Green West Road, Jordans, Buckinghamshire HP9 2SY £10.00 (includes first drink!)  Date: Mon 10 October 8-9.30pm (including interval) Then we will put your names on the door. No tickets will be issued. Thanks so much.
Alternatively, if you aren't able to  pay on-line,  please pay in the Jordans village shop thank you to Emma Holdsworth and your name(s) will be put on the door after payment.
Nearest train station : Seer Green & Jordans  Approx 10 minutes walk
Or – Gerrards Cross and Beaconsfield stations – 10 min taxi ride from there
All trains come out of Marylebone if coming from London.
Approx. 20 mins. by car  from West London
Henry Normal, co-writer of The Royle Family and other comedy hits, beautifully folds in the pathos as he talks about his son who has 'mildly severe' autism
THEGUARDIAN.COM|BY HANNAH VERDIER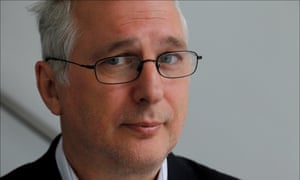 It's been 20 years since Henry Normal's poetry got an airing on the wireless, but A Normal Family (Radio 4) is so moving and cheery it's worth the wait.
Normal, who's perhaps best known for co-writing The Royle Family and The Mrs Merton Show, goes back to his roots in a show that's part stand-up, part poetry recital and a total outpouring of love for his autistic son Johnny.
"I remember saying to myself that he was going to have a better life than me," says Normal, voice cracking with emotion as he recalls seeing his newborn baby Johnny for the first time. "Things that had held me back wouldn't hold him back. I'd see to that."
As the live audience falls silent, Normal times his brightening of the mood to comic perfection. "I've brought along a toilet roll, just in case," he jokes. Johnny went to the zoo as a child and his favourite bit was a monkey bin; now his parents celebrate small victories, like the moment when he behaved like a typical teenager, shouting for the iPad. He's a happy boy most of the time and his family tried everything to make things right. "Music therapy, art therapy … and of course swimming with dolphins," says Normal. "Like any parent, we'd have skydived playing the ukulele if it would help."
It's a rare and lovely thing: half an hour of radio that stops you short, gently demands your attention and then wipes your tears away while you have to have a little sit down. The poems are succinct, heartrending and peppered with gentle punchlines. In King Canute Should Have Checked The Tides, Normal pays tribute to his family's strength. "Bring on your highest wave," he says. "The glory is ours. We live here. We own this weather."
Many parents of children with autism are facing "exhausting battles" to get the right education and support, according to a new charity report.
Almost three quarters (74%) of parents found it difficult to get the educationalsupport their child needs, a survey of 980 parents and carers of children with autism by the National Autistic Society (NAS) revealed.
"Parents should not be facing long, stressful and exhausting battles, just to get the right education for their children," said Mark Lever, chief executive of the NAS.
"This is putting an unnecessary strain on often already vulnerable families and risking the long-term prospects of the one in 100 autistic children in England, who have so much to contribute to our society."
"With the right education and support, children on the autism spectrum can achieve great things and their families can live full and happy lives," added Lever.
"Without it, families are left to struggle alone and children can miss out on years of education, putting them and our society at a huge disadvantage."
The findings come two years after the Government introduced a new special educational needs and disability (SEND) system in England, with the aim of making it easier for children to get support and making the process less adversarial for families.
Asked about the survey's findings a Department for Education spokesperson said:  "We have made changes to the system of support for special educational needs and disability (SEND), which put families and children at their heart, making it less adversarial for them – and we are seeing good progress.
"Mediation is now available for anyone thinking about an appeal. This is seeing results with 75% of cases in 2015 resolved without the need to appeal that year, while the number of appeals is also on a downward trend.
"We've also invested in an advice service, run by the National Autistic Society, to help parents and teachers to help children with autism remain in school, and Ofsted and the Care Quality Commission (CQC) are now looking at how well local areas are providing for children with additional needs."
The latest Government data shows that councils are delivering nearly 60% of new Education Health and Care (EHC) plans within 20 weeks, excluding exception cases.
However, among parents questioned in the NAS survey, 69% said their child waited more than a year for support after concerns were first raised, and 16% waited more than three years to get support.
"The Government tried to fix the education system for children with special educational needs but many of the same problems remain," said Lever.
"Too many parents are having to take legal action to get basic support for their children and education, health and care services still aren't working together as the Government says they should."
There are an estimated 120,000 school-aged children on the autism spectrum in England. The vast majority (73%) are in mainstream schools and many rely on the SEND system.
For some children this will mean minor adjustments, like having time out from a busy classroom or a teaching assistant to help them process their thoughts. Others, who perhaps have an extreme sensitivity to light or sound, or who are unable to communicate verbally, may need a much higher level of support at a specialist school.
Although the majority of parents surveyed by the National Autistic Society say their child is in their preferred type of school, many parents faced an uphill battle to get to this point – with 17% saying they took their local authority to an SEND Tribunal to get the right support.
The most common reasons reported for appealing were the local authority's refusal to issue a statement or EHC plan, or to change the school named in the statement/plan.
The NAS is now calling on the Government to review how councils are implementing the new SEND system and, based on this, to decide whether additional resources are needed to complete the reforms by their 2018 deadline or whether more time is needed.
"The Government must take responsibility for its reforms and review how local councils are using the extra funding and what difference the reforms are making," said Lever.
"The Government must then act, whether that's increasing resources to complete the reforms by the 2018 deadline or delaying implementation until local authorities can fulfil their legal responsibilities properly.
"The most important thing is to make sure that the speed of the reforms don't compromise the support children need."
One mother told the NAS she has had two very different experiences getting support for her sons Cameron, 13, and Harry, 11, who are both autistic and struggled in mainstream schools.
"My son Cameron was heavily bullied at school and struggled with depression and anxiety," explained Jody.
"I took the difficult decision to home-school him while I looked for more appropriate placement that met his need.
"I faced a huge battle and ended up going to an SEN Tribunal, which eventually ruled in my favour but took a heavy emotional toll on my family. But his latest placement recently broke down so I feel like I'm back to square one.
"Getting a SEN statement for my younger son Harry was much simpler and he's doing well at an autism-specific school.
"His statement was recently transferred to an EHC plan, under the new system. It took around six months to finalise the plan and I'm very happy with its contents and how the school implemented it.
"Thankfully, Harry is continuing to flourish."
The National Autistic Society run the Education Rights Service, which provides impartial, confidential information, advice and support on education rights and entitlements for parents and carers.
https://www.mencap.org.uk/blog/summer-holiday-not-us
Summer holiday? Not for us
24 August 2016
 The school holidays are a time when most families catch up on sleep, take a trip abroad, or maybe just enjoy a break from their normal routine.
Not so for us. When you have a child with severe autism, the school holidays are often when the real work begins.
Our son is now 17, and has severe autism and a learning disability. He is an extremely active young man, likes the outdoors and has no sense of danger. He would think nothing more of running into the middle of the road and needs two people supporting him at all times outside in the community.
All this means that we are basically working a 24-hour shift. I can never take my eyes off him for a second. Without school to break up the day, it can be enough to bring you to breaking point.
It's also difficult for my other children. Often we can't go out as a family because of his needs, so they end up on Instagram, watching as their friends whoop it up in the big outdoors.
So short breaks, where your child spends time with a support worker to give you a rest, are essential for parents on many levels. They are provided by local authorities and charities, and they are an absolutely vital lifeline for parents of children with a severe learning disability.
Having access to short breaks for my child means I can take my other younger children out of the house and spend time with them, or even do something as simple as drive them to a friend's house. After all, it's their school holiday too.
I didn't even know short breaks existed until my child was 13, even though the professionals around us knew I was struggling. No-one had told me.
When you bear in mind that 85% of marriages of families with autistic children break down due to stress, it's shocking that many parents aren't even told what support is available.
We've been accessing short breaks for four years now, and I haven't had any problem with the commitment and genuineness of the people caring for my son, although I have been worried at times about their lack of autism experience.
However, I have been extremely stressed by the administrators 'above them' in the office. There is always a mass of paperwork to fill in, which feels like a box-ticking exercise. To say that the authorities are working with parents to shape the activities is totally tokenistic.
I have even had a call from the service provider saying my son wasn't suitable for the scheme, as he wasn't into team-building. I felt like they had completely missed the point, that we were being penalized for having a child with complex needs.
I have also found that some of the sessions on offer just aren't accessible for children with complex needs. We were offered an all-day session at the bowling alley, for example, which was far too much for my child – or any child! – to cope with.
The only real success I have had were with two breaks supplied by two amazing charities. One was on a farm and the other was at a theme park, and they were run by bright volunteers who looked after my boy and loved the activities as much as he did! It was perfect for my son.
Sadly, demand totally outstrips supply and you only get to go once on these kind of breaks.
The world of a carer of a disabled child is about many different things, but I have found that processes seem to come before people. The system is impenetrable, and it seems like the biggest concern is budgets, not people or families.
https://www.mencap.org.uk/blog/summer-holiday-not-us
http://gu.com/p/4nmmg/stw
When Sarah's son Robbie was diagnosed with autism, aged four, she swore she would always protect and care for him. But 10 years on, she is in need of protection herself